WinterOps - Attend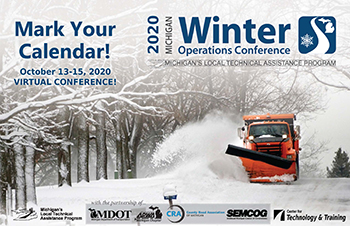 Click the image above to view the event flyer
MARK YOUR CALENDAR FOR 2020 WINTER OPERATIONS CONFERENCE
Registration for Winter Operations Conference will open in 2020 for the 2020 Winter Operations Conference; check back regularly for more information about when registration will open. Register early for the early-bird rate. Late registrations are at the full conference rate. See more information about registration below.
The registration fee includes:
Full access to all technical sessions, exhibits, and outdoor equipment area
Conference handouts and other materials
Food and refreshments for all meals and breaks listed on the agenda
After-dinner networking opportunity
Registration does not include accommodations; the conference flyer contains for more details on accommodations that are available for participants. Please notify us in advance if you have special dietary needs. NOTE: Michigan Tech reserves the right to use any pictures taken during this event for advertising and/or instructional purposes.
Check out the presentations from the 2019 Winter Operations Conference, below, to see a sampling of the topics covered during the conference.
CANCELLATION POLICY: No-shows and cancellations within three business days prior to the workshop or conference will be charged the full registration fee. Substitutions will be accepted.
Questions? E-mail ctt@mtu.edu or call (906) 487-2102.
Continuing Education
The conference will count for instructional hours for continuing education for professional engineers; the number of hours is yet to be determined. The CTT's continuing education policy is available at ctt.mtu.edu/continuingeducation.
---
A look back at 2019 Winter Operations Conference...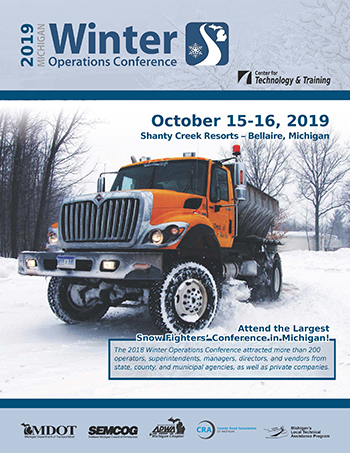 1. Michigan State Police: Commercial Driver's License Requirements Update
Sergeant Joseph Austin—Michigan State Police
2. Michigan State Police: Open Forum
Sergeant Joseph Austin—Michigan State Police
3. Panel—Cutting Edges
Dean Reid—City of Novi - Department of Public Works
Gerald Danforth—Ironhawk Industrial Distribution, LLC
4. Keeping Trailers Connected to the Truck
Fred Whitford, PhD—Purdue University
5. Bulk Rock Salt: Where & How
Roger Wilson—Cargill Salt
6. Winter Maintenance Training Opportunities & Resources
Ken Flore—Michigan Department of Transportation
Mark Crouch—Michigan Department of Transportation
7. RWIS in Your Daily Operation
Mark DeVries—Vaisala, Inc.
Melissa Longworth—Michigan Department of Transportation
8. Snow Plow Operator Training: Who, What, & and Why
Willis Greer—Road Commission for Oakland County
Duane Poole—Bloomfield Township
9. Training for the Public Works Professional
Rich Domonkos—Indiana Local Technical Assistance Program
10. Panel—Problem or Opportunity: Hiring & Training Drivers & Operators
Willis Greer—Road Commission for Oakland County
Duane Poole—Bloomfield Township
11. A Second Look at the Winter Maintenance Toolbox
Rich Domonkos—Indiana Local Technical Assistance Program
12. Using Loader Scales to Measure & Manage Salt
Joe Steiger—Trimble-Loadrite
PRESENTATIONS - Day 2
13. Extracting Stuck Equipment Safely
Fred Whitford, PHD—Purdue University
14. Panel—Brine Systems: Research, Bid, Installation, & Implementation
Brian Gutowski, PE—Emmet County Road Commission
Gerry McCallum—City of Orchard Lake
Steven Wessels—Michigan Department of Transportation
15. Weather Forecasting
Pat Bak—National Weather Service—Gaylord
16. Panel—Police to Practice: Winter Maintenance Expectations
Matt Wiktorowski—City of Novi
Brian Gutowski, PE—Emmet County Road Commission