County Engineers Workshop - Attend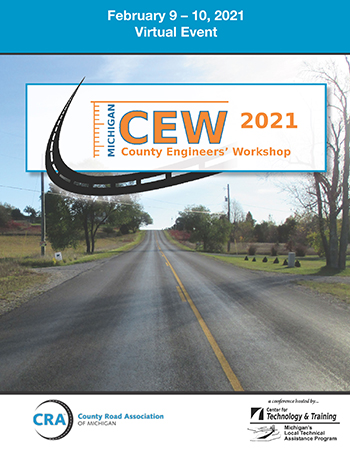 Click the image above to view the event flyer
REGISTRATION FOR CEW
Join us for the 2021 County Engineers' Workshop! Registration for the 2021 CEW virtual event is now open. The event flyer lists presentations and speakers for the 2021 County Engineers' Workshop.
The registration fee includes:
Full access to all technical sessions and networking opportunities
Full access to the conference site including access to digital conference handouts and other digital materials
NOTE: Michigan Tech reserves the right to use any screen captures, audio recordings, or pictures taken during this event for advertising and/or instructional purposes.
CANCELLATION POLICY: No-shows and cancellations within three business days prior to the workshop or conference will be charged the full registration fee. Substitutions will be accepted.
Questions? E-mail ctt@mtu.edu or call (906) 487-2102.
CONTINUING EDUCATION
The Michigan County Engineers' Workshop counts for instructional hours for continuing education for professional engineers. The number of hours is noted in the conference flyer. The CTT's continuing education policy is available at ctt.mtu.edu/continuingeducation.
---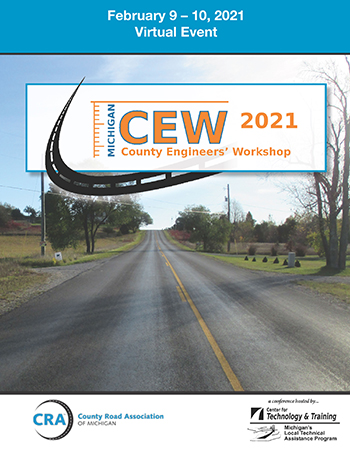 PRESENTATIONS AT THE 2021 CEW
PRESENTATIONS - Day 1
1. Keynote Address: Welcome from CRA of Michigan President
Richard Timmer—County Road Association of Michigan
2. TAP Funding & Partnering with Agencies for New Funding Sources
Michele Ford, PE—Washetenaw CRC
Roy Townsend, PE—Washtenaw County Parks and Recreation
3.  Success with MDOT Safety Funding: What Should Agencies Do?
Pamela Blazo, PE—Michigan Department of Transportation
4. Culvert Inspection Program & Replacement Project Case Studies
Aaron Berkholz, PE—Washtenaw CRC
James Hui—Washtenaw CRC
Samuel Leatch—Wightman
5. From the MDOT Director's Desk
Paul Ajegba, PE—Michigan Department of Transportation
PRESENTATIONS - Day 2
6. Sanford & Edenville Dam Flooding Failure & Restoration Efforts
Jonathan Myers, PE—Midland CRC
Dave Pettersch—Gladwin CRC
Kimberly Zimmer, PE—Michigan Department of Transportation
7.  Latest News from MDOT Local Agency Program
Tracie Leix, PE—Michigan Department of Transportation
8. How the Michigan LTAP Serves Local Agencies
Tim Colling, PE—Center for Technology & Training
9. Presentation Skills: Effective PowerPoint Slides & Remote Meetings
Emily Kizer—Washtenaw CRC