County Engineers Workshop - Attend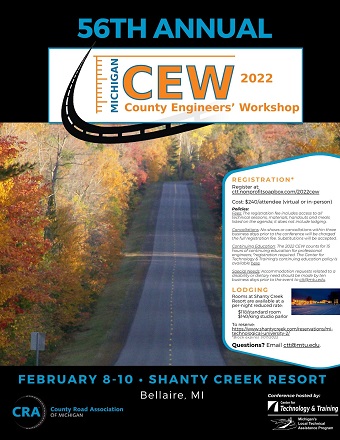 Click the image above to view the event flyer
Registration for this event closed on January 30, 2022.
The event flyer lists presentations, speakers, and location details for CEW.
The registration fee includes:
Access to all technical sessions and networking opportunities (on-site or virtual)
Event handouts and other materials (hard copy or digital)
Food and refreshments for meals and breaks listed in the agenda for that day (if applicable; depending on participation mode)
For on-site participatioin, registration does not include accommodations although the event flyer will contain details on accommodations that are available for participants; also, please notify us in advance if you have special dietary needs. NOTE: Michigan Tech reserves the right to use any screen captures, audio recordings, or pictures taken during this event for advertising and/or instructional purposes.
CANCELLATION POLICY: No-shows and cancellations within three business days prior to the workshop or conference will be charged the full registration fee. Substitutions will be accepted.
Questions? E-mail ctt@mtu.edu or call (906) 487-2102.
CONTINUING EDUCATION
The Michigan County Engineers' Workshop counts for instructional hours for continuing education for professional engineers. The 2022 CEW is worth 15 credit hours (noted on event flyer). The CTT's continuing education policy is available at ctt.mtu.edu/continuingeducation.
---
PRESENTATIONS AT THE 2022 CEW
PRESENTATIONS - Day 1
1. Keynote Address: Welcome from CRA of Michigan President
Fred Peivandi, PE — County Road Association of Michigan
2. CRA of Michigan Update
Denise Donohue, CRA of Michigan
Steve Puuri, PE, CRA of Michigan
3. Panel: High Water / Erosion on County Roads
Mark Timmer, Oceana CRC
Wayne Schoonover, PE, Grand Traverse CRC
Rob Falls, PE, Sanilac CRC
4. HMA Testing Equipment and Methods
Kevin Glupker, PE, SME
5. Transportation Economic Development Fund Grants Overview
Christine Zuzga, MDOT
6. FHWA Mobile Asphalt Technology Center and Outreach to Local Agencies
Leslie Myers, FHWA
7. Talking to the Public: Translating Engineering Speak
Craig Bryson, RC for Oakland County
8. HMA Rejuvenators: Effective PM or Magic Elixir?
Scott Assenmacher, PE, Asphalt Materials Inc.
TBD, Asphalt Materials Inc.
9. Alternative Methods for Conducting Speed Studies
Tim Gates, PhD PE, MSU
10. Subcomittee Reports of the Engineering Committee 
Bob Lindbeck, PE, CRA of Michigan
Awards Presentation
PRESENTATIONS - Day 2
1. County Project Showcase: Union Pier Road
Kevin Stack, PE, Berrien County Road Dept.
2. Injection & Spray Applied Polyurethane for Infrastructure Repair
Mike Guerin, Havener Tech LLC
Jacob Rushlow, PE, City of Livonia
3. GIS Certification Mapping
Joanna Johnson, RC of Kalamazoo County
Rebekkah Ausbury, RC of Kalamazoo County
4. EGLE NextCycle and Scrap Tire Programs
Kirsten Clemens, PE, EGLE
5. Navigating Utility Permitting (What can agencies do?)
Bill Henn, Henn Lesperance PLC
6. Expectations of Authorized Public Agencies
Lindsey Ringuette, EGLE
7. Tips for Navigating NEPA Efficiently
Lane Masoud, MDOT
8. Work Zone Safety for County Roadways
Chris Brookes, MDOT
PRESENTATIONS - Day 3
1. Concrete Pavement Rehabilitation Techniques 
Wayne Harrall, PE, Kent CRC
2. Latest News from MDOT LAP
Tracie Leix, PE, MDOT
Kelly Crannell, PE, MDOT
3. Michigan Local Project Administration and Roadsoft Development
Nick Koszykowski, Michigan LTAP
4. Utility Coordination Lessons Learned: Pushing a Rope to Build a Road
Nate Murphy, PE, Washtenaw CRC
Brian Kernstock, PE, Calhoun County Road Dept.
TBD, Fishbeck
5. Lessons Learned from Projects That Went Wrong
Matt MacDonell, PE, Washtenaw CRC
Ryan Minkus, PE, RC of Kalamazoo County
Kristine Parsons, PE, Calhoun County Road Dept.
Lance Malburg, PE, Dickinson CRC