Highway Maintenance Conference
Highway Maintenance Conference
2017 Michigan Highway Maintenance Conference
Bellaire, Michigan - May 2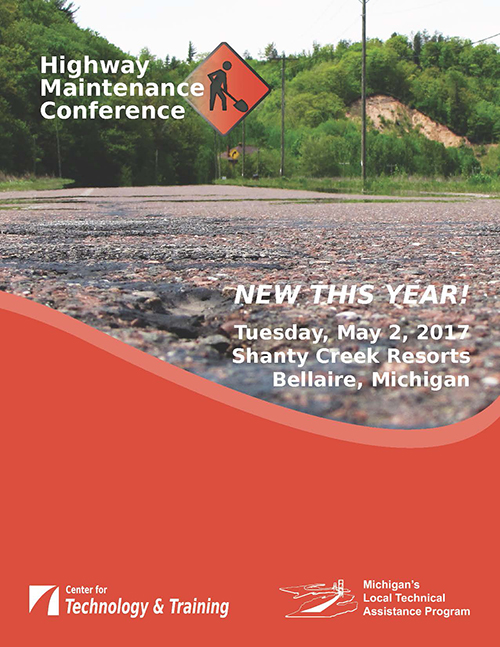 Click the image above to view the event flyer
Presentations
1 - Tire Safety - Rod Pierson  
2 - Traffic Regulators - Chris Brookes, Chuck Bergmann
3 - ADA in Work Zones - Chris Brookes, Chuck Bergmann
4 - CPM Treatments - Jeremiah Stratton
5 - Noxious Plants - Jim Gaus, Tim Jones
6 - Guardrail Approach Terminals - Matt Pratt, Mark Crouch
7 - Work Zone Safety & New Maintenance - Chris Brookes, Chuck Bergmann
8 - Securing Loads, Overloads, & CDL Requirements - Officer James Malone
9 - Trench Safety & MIOSHA Part 9 - Mike Ross
Continuing Education
This conference will provide maintenance training and information about safety, construction, repair, and regulations. The 2017 Highway Maintenance Conference counts for 7.5 instructional hours for Continuing Education for Professional Engineers. See the CTT's policy for Continuing Education for Professional Engineers in Michigan here.
Registration
Employees of public agencies.............................................$95
Employees of private agencies..........................................$120
Register here for the conference
Cancellation Policy: No-shows and cancellations within three business days prior to the workshop or conference will be charged the full registration fee. Substitutions will be accepted.
Michigan Tech reserves the right to use any pictures taken during this event for advertising and/or instructional purposes.
Accommodations
A block of rooms has been set aside at Shanty Creek Resorts. Rooms are available on a first-come, first-served basis at the group rate of $89.00 per room. Mention the "Highway Maintenance Conference" when you book. The deadline for reserving rooms at the group rate is April 1, 2017. A deposit of one-night's stay is required to hold each individual's reservation. Book your room online or call 1-866-695-5010.