County Engineers Workshop - Attend
A look back at 2019 CEW...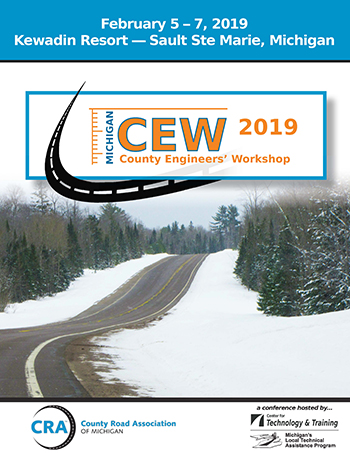 PRESENTATIONS AT THE 2019 CEW
TAMC's New Role with the MIC - Joanna Johnson
Local Agency Pavement Warranty Program Panel Discussion - Steve Puuri, PE; Dave Pettersch; Lance Malburg, PE; Wayne Harrall, PE
Traffic County Equipment, Setup, and Best Practices - Frank Benavidez; Edward Potter
Engineering the Perfect Deposition - Bill Henn, JD; Burt Thompson, PE
A Case Study in Public Engineer Liability: "Water You Doing?" - Bill Henn, JD
Pavement Preservation and Fog Seals - Harrison County, Indiana -- Kevin Russel, PE
Soil Erosion and Sedimentation Control Best Practices - Mitch Koetje 9presentation cancelled)
MDOT Local Agency Program Update - Tracie Leix, PE; Bruce Kadzban, PE; Kelly Crannell, PE
Sub-committee Reports of the Engineering Committee - Bob Lindbeck, PE
Roscommon County Ultrathin Overlay Case Studies - Tim O'Rourke
"Best-First": A 20-year Case Study in Aggressive CPM Treatments (...or Are You a Chicken?) - Bradley Lamberg, PE
Using Drones on Local Agency Projects - Joe Campbell, PE; Peter Meingast
Jackson County DOT Cold-in-place Recycling Program and First Year Review - Christopher Bolt, PE; Angela Kline, PE
Cold in Place Panel Discussion - Brian Gutowski, PE; Terry Palmer, PE; Cory Wale, PE; Christopher Bolt, PE; Angela Kline, PE
Working with Other Agencies: Houghton County Flood Recovery - Kevin Harju, PE; John Cima, PE
Clare Avenue Experimental Project and Chip Seal Experiences - Deepak Gupta, PE
Documenting NEPA Activities on Local Agency Federal-aid Projects - Eric Costa; Mark Harrison, PE; Lynnette Firman, PE; Tracie Leix, PE
Drone Demonstration - Peter Meingast
FHWA Update - Kurt Zachary, PE
MDEQ Update - Jim Watling, PE
NACE Update - Wayne Schoonover, PE
CRA of Michigan Update - Steve Puuri, PE
LTAP Update - Pete Torola, PE
REGISTRATION FOR 2020 CEW
Join us February 4-6, 2020, in Manistee for the 2020 County Engineers' Workshop! Registration for the 2020 CEW will open in November/December 2019. Additional conference details and the agenda will be available in the conference flyer (to be released at that time).
The registration fee includes:
Full access to all technical sessions and networking opportunities
Conference handouts and other materials
Food and refreshments for all meals and breaks listed on the agenda
Registration does not include accommodations; the conference flyer will contain details on accommodations that are available for participants. Please notify us in advance if you have special dietary needs. NOTE: Michigan Tech reserves the right to use any pictures taken during this event for advertising and/or instructional purposes.
CANCELLATION POLICY: No-shows and cancellations within three business days prior to the workshop or conference will be charged the full registration fee. Substitutions will be accepted.
Questions? E-mail ctt@mtu.edu or call (906) 487-2012.
CONTINUING EDUCATION
The Michigan County Engineers' Workshop counts for instructional hours for continuing education for professional engineers. The number of hours will be noted in the conference flyer. The CTT's continuing education policy is available at ctt.mtu.edu/continuingeducation.