County Engineers Workshop
​2018 County Engineer's Workshop
February 13-15, 2018 — Shanty Creek Resorts, Bellaire, Michigan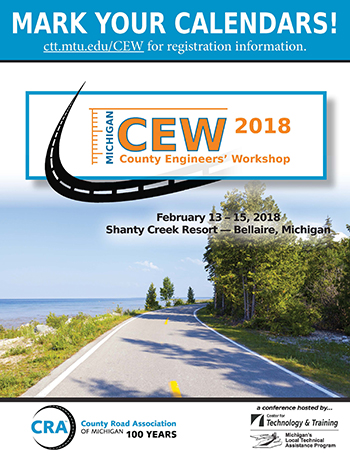 Registration information will follow.
Continuing Education
The 2017 County Engineers' workshop counts for [a to-be-determined number of] instructional hours for Continuing Education for Professional Engineers. See the CTT's policy for Continuing Education for Professional Engineers in Michigan here.
Registration
Cancellation Policy: No-shows and cancellations within three business days prior to the workshop or conference will be charged the full registration fee. Substitutions will be accepted.
CEW is open to engineering consultants, engineers, and surveyors from municipalities and public agencies as well as CRA Associate Members. Seating is limited; please register early to ensure participation.  
Cost.....................................................................................$TBD
Registration will be forthcoming for the County Engineers' Workshop.
Become an associate member of the CRA of Michigan here.
Note: Michigan Tech reserves the right to use any pictures taken during this event for advertising and/or instructional purposes.
Accommodations
Rooms at Shanty Creek Resort will be available. You will be responsible for making your own room reservation. Additional accommodation information will be available when registrations opens. Groups fill out and mail/fax this form.