County Engineers Workshop
2019 County Engineer's Workshop
February 5-7, 2019 — Kewadin Resort, Sault Ste. Marie, Michigan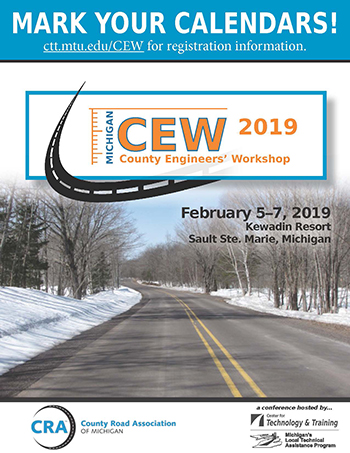 PRESENTATIONS FROM THE 2018 COUNTY ENGINEERS' WORKSHOP
1.  Local Pavement Warranty Program
Steve Puuri—County Road Association of Michigan
Dave Pettersch—Gladwin County Road Commission
2. Communication Apps for Local Agencies
Joanna Johnson—Road Commission of Kalamazoo County
Jim Harmon—Washtenaw County Road Commission
3. Geospatial Utility Infrastructure Data Exchange (GUIDE)
Eric Barden—Spicer Group
Nick Lefke—Michigan Department of Transportation
4. Using AVL and MDSS to Reduce Salt Usage
Gregory Perry—Michigan Department of Transportation
Matt Pratt—Michigan Department of Transportation
Mark Crouch—Michigan Department of Transportation
6. FAST-TRAC and Other Innovations at the Road Commission for Oakland County
Danielle Deneau—Road Commission for Oakland County
7. Facility Marking Challenges
Bruce Campbell—Miss Dig System, Inc.
8. Professional Liability for Engineers
Bill Henn—Henn Lesperance PLC
9. Emergency Aid Relief Preparedness at Gogebic County Road Commission
Darren Pionk—Gogebic County Road Commission
10. Autonomous/Connected Vehicles and Their Impact on Local Roads
Kirk Steudle—Michigan Department of Transportation
11. Keeping Current with Environmental Clearance for Categorical Exclusions
Tracie Leix—Michigan Department of Transportation
Margaret Barondess—Michigan Department of Transportation
Matt Ihnken—U.S. Fish & Wildlife Service
12. Federal-aid Compliance & Oversight Consistency
Kelly Crannell, PE—Michigan Department of Transportation
13. Rejuventation Technology for Use in Highly Recycled HMA Production & Pavement Preservation
Hassan Tabatabaee—Cargill
14. LTAP Strategic Planning Objectives and TTAP Next Steps
Victoria Peters —FHWA Center for Local-Aid Support
15. Saving Time with Steel Tub Girders in St. Clair County
Bill Hazelton—St. Clair County Road Commission
Dewayne Rogers—St. Clair County Road Commission
Guy Nelson—TEGcivil
16. Void-reducing Asphalt Membrane Case Studies
Marvin Exline—Heritage Research Group/Asphalt Materials, Inc.
17. Subcommittee Reports
Bob Lindbeck—County Road Association of Michigan
18. FHWA Update
Kurt Zachary—Federal Highway Administration
19. MDOT Local Agency Program Update Update
Tracie Leix—MDOT Local Agency Programs
Bruce Kadzban—MDOT Local Agency Programs
Guy Nelson—TEGcivil
20. MDEQ Update
James Watling—Michigan Department of Environmental Quality
21. MITA Update
Rachelle VanDeventer—Michigan Infrastructure & Transportation Association
22. NACE Update
Wayne Schoonover—Mason County Road Association
23. CRA of Michigan Update
Steve Puuri—County Road Association of Michigan
Jeff Silagy—Michigan Wetland Board
24. LTAP Update
Pete Torola—Center for Technology & Training
Additional Information
Become an associate member of the CRA of Michigan here.
Note: Michigan Tech reserves the right to use any pictures taken during this event for advertising and/or instructional purposes.